SPF 50+ Antioxidant Sunscreen
High Protection against the sun.  UVA & UVB protection. Antioxidant Properties.
Indications:Very high protection SPF cream indicated for use during very intense sun or when exposed to the sun for a long period. For fair skin, including children,, sensitive to solar radiation, this product is indicated to prevent ageing caused by the sun. Boasting both chemical and physical filters, it has both UVA and UVB protection.
Dermatologically tested, our SPF has antioxidant properties and is for everyday use.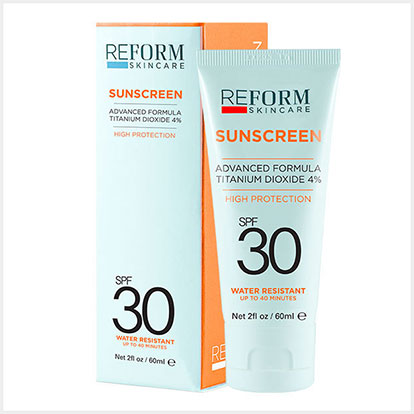 SPF30 Sunscreen Advanced Formula
Provides UV protection, Moisturises and soothes skin.Water resistant (40 minutes).Indications:An SPF 30 sunscreen containing Titanium Dioxide, this forumla is designed to allow your skin to breath while providing UV protection from harmful sun exposure.  The sunscreen is also water resistant to 40 minutes and suitable for anyone who intends to spend time in the sun.  It is also beneficial to apply sunscreen as part of your daily skincare regime.
Active Ingredients:Titanium Dioxide 4.o% & Octinoxate 3.0%…
Vitamin C 20% Serum
Treats Discoloration, Skin Aging & Skin Redness, Improves TextureIndications:A serum that has a 20% concentration of Vitamin C providing protection against harmful reactive oxygen species (ROS). The antioxidant formula has preventative benefits resulting in an effective solution to protect against free radicals and environmental damage.  
The product is used to brighten and improve texture and complexion of the skin.  Vitamin C is also used in the treatment of general redness.
HYAL Vitamin C+E Serum
Fights Free Radicals, Brightens & Evens Skin Tone, Super Antioxidant.
Indications:An antioxidant treatment that interacts with Vitamin C and E together with Ferulic Acid to provide high levels of protection on the skin surface to prevent damage caused by free radicals and environmental pollutants.  This forumla helps provide for a brighter, radiant even skin toned complexion.
Active Ingredients:15% Vitamin C, 1% Vitamin E, 0.5% Ferulic Acid, Hyaluronic Acid.
Retinol 1% Creme
Fine Lines & Wrinkles, Pigmentation, Skin Aging.High Strength Formula
Indications:Retinol 1% Creme is used in the treatment and repair of aging skin and provides a firmer brighter more youthful complexion.  The formulation helps reduce signs of fine lines, wrinkles, blemishes, blotchiness and uneven skin tone.  Cucumber, Chamomile and Aloe Vera soothe and calm the skin.
Vitamin B5 Gel
Hydrating, Moisture Binding, Improves Firmness & Texture.
Indications:With a combination of Vitamin B5 and Hyaluronic Acid, this gel binds moisture restoring the skin's balance. A lightweight formulation, this clear gel improves the skin's smoothness, firmness and texture while enhancing antioxidant delivery.
Phyto Botanical Gel
Pigmentation, Evens Skin Tone, Lightens, Soothes & Hydrates.
Indications:A botanical gel formulation to assist in the treatment of pigmentation and the evening of skin tone, skin redness and irritation.  This gel also has hydrating and anti inflammatory properties.  
Skin lightening and depigmentation properties are achieved through the use of kojic acid, alpha-arbutin and uva-ursi. Hyaluronic Acid hydrates and firms the skin.
Everyday Moisturiser
Moisturising, Nourishing, Soothing.
Indications:This Moisturiser nourishes and enhances dehydrated skin and helps protect against free radicals and environmental damage.  
Vitamin A & E also soothe and protect the skin while marine extracts keep the skin clean and clear. For normal or oily skin types.
Hyaluronic Acid Serum
Fine Lines & Wrinkles Hydrates Skin, Skin Firmness & Eelasticity.
Indications: Hyaluronic Acid is a naturally occurring substance found in the body. It absorbs quickly and provides for new cell growth. It is also attributed to skin firmness and elasticity and it softens fine lines and wrinkles, plumping the skin.
Hyaluronic Acid can hold 1000 times its weight in water giving it exceptional hydration properties.
Glycolic Acid Foaming Cleanser
For Daily Use, Cleanses And Exfoliates, Imrpves Skin Texture, Benefits All Skintypes.
Indications:A gentle foaming cleanser for everyday use, Glycolic Acid exfoliates dead skin cells and increases cell turnover promoting better skin quality, tone and texture.
This foaming cleanser is designed for everyday use and for all skin types, particularly problematic skin.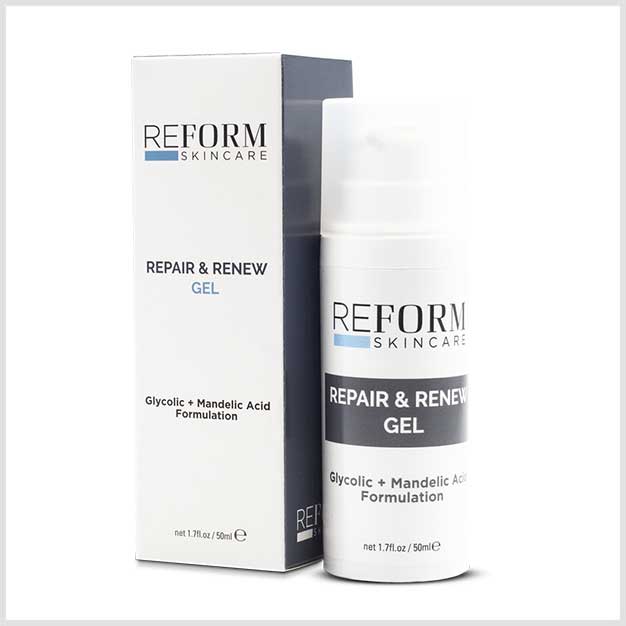 REPAIR & RENEW GEL
For Daily Use,Improves to attenuate skin imperfections. Benefits all skin types.
Indications:
A delicate chemical peeling based on mandelic acid that promotes the natural renewal of the epidermis, helping to attenuate skin imperfections.
This Gel is perfect for both day and night use and is a very easy product to add to your daily skin regime.  We recommend using REPAIR & RENEW Gel at night and allow the product gently exfoliate your skin while you sleep. 
Active Ingredients:  Glycolic Acid, Mandelic Acid